News
Posted: Aug 26, 2014 3:45 PMUpdated: Aug 26, 2014 3:53 PM
Empty Bowls Announcement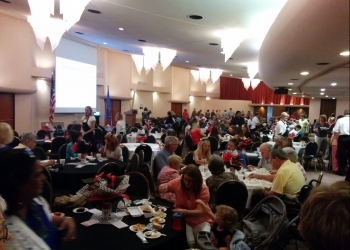 Jon Eastman
\r\n The Community Hall at The Bartlesville Community Center was packed during lunch Tuesday for Agape Mission's Annual 'Empty Bowls' event. Besides raising money to help feed the needy, Executive Director Sherri Smith had an
announcement to make
.
\r\n
\r\n The new location of Agape Mission will be at 555 S Cass, not too far from its current location. Smith said she is unsure of when the construction of the new building will begin as at least half of
1.4 million dollars
needs to be raised before any work can be done at the empty lot.
\r\n
\r\n A pickle jar was set out at the event for donations, but Smith said she is looking into grants and a capital campaign will begin soon. If you want to donate towards the new building you can make out a check to the Agape Mission and put 'building fund' in the memo. For a link to the Agape Mission
click here.
\r\n
« Back to News