News
Local Schools
Posted: Oct 07, 2013 10:33 AMUpdated: Oct 07, 2013 10:33 AM
Bartlesville School Board to Hold Morning Meeting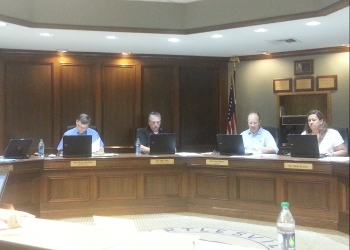 BARTLESVILLE SCHOOLS ADVANCER 10/7/13 NOON CHARLIE
The Bartlesville School Board will move closer to doing the work at school sites voters approved last month during a Tuesday morning meeting. The agenda calls for the board to approve Nabholz Construction Services as Construction Manager for the projects paid for by the 2013 bond issue. The board also plans to approve a proclamation naming the week as Education Support Personnel Week. The board is expected to appoint Alison Clark to fill the unexpired Office #3 seat on the board. Clark will take the oath office after the vote approving the action.
Five building principals will report to the board. Central Principal Ryan Huff, Hoover Elementary Principal Rene Burns, Kane Elementary Principal Shelly White, Madison Middle School Principal Joey Eidson, and Wilson Elementary Principal Tammie Krause will present their school's Site Improvement Plan to the board.
Tuesday morning's school board meeting is set for 10-thirty at the Education Service Center.
« Back to News