News
Local Events
Posted: Oct 08, 2013 12:50 PMUpdated: Oct 08, 2013 12:52 PM
Oktoberfest Tickets Remain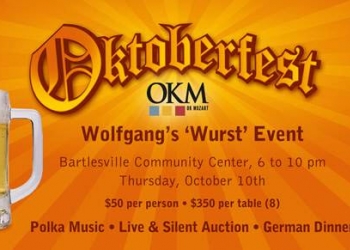 Tickets remain for Thursday's OK Mozart Octoberfest event at the Bartlesville Community Center. Interim Executive Director for the festival, Randy Thompson says this year's third-annual Octoberfest will feature many of the items you'd expect to find in Austria or Germany this time of year.

Billed as Mozart's Wurst event, Thompson says you'll have plenty of German food to enjoy.

Tickets for the event are 50 dollars or 350 for a table of eight. According to Thompson the fund-raiser helps bring money into the festival at times other than just prior to the week-long event in June.

You can get your tickets at the OK Mozart Box Office or at the Bartlesville Community Center box office. You can also buy tickets online at www.okmozart.com or by phone at 918-336-9800.
« Back to News