News
Osage County
Posted: Jun 09, 2014 10:25 AMUpdated: Jun 09, 2014 10:28 AM
Osage Commissioners Approve Social Media Program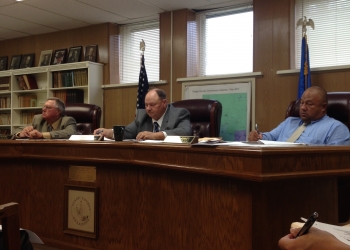 Colton Scott
The Board of Osage County Commissioners met Monday morning to take up regular business during their latest meeting.
The board heard updates from Kay Kelley who gave an emergency 911 update talking about a new dispatch system in Osage County that is to be set up and running sometime in the near future.
The board also heard from Candy Thomas of the OCIA. They approved, signed and certified action on submitting the economic development administration grant (EDA) for the teleconference center and parking lot at the Pawhuska Business Development Center.
They also approved a memorandum for asphalt that will be used to pave the parking lot for the teleconference center.
Also, independent consultant Steven Guy went before the board on behalf of the Tourism Oversight Committee. The board awarded $1,500 for advertisements on the Shidler Car Show that will be held in August along with several other advertisement campaigns for other local events. They then awarded $17,000 to the committee for a new social media program that will intertwine with the new county website that is to be up and running soon. Several companies will now bid on the program. It will be used to promote events in Osage County as well as tourism.
The board then donated the agricultural building at the Osage County fairgrounds on June the 24th for a blood drive in memory of Deputy Dwight Barnard.
The Osage County Commissioners will meet next Monday at their regularly scheduled meeting to take up more county business.
« Back to News