News
Local events
Posted: Jun 19, 2014 10:02 AMUpdated: Jun 19, 2014 10:02 AM
"Eggs & Issues" Breakfast to Feature Inhofe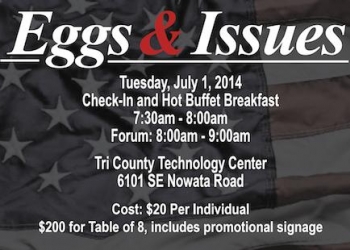 Charlie Taraboletti
The Bartlesville Regional Chamber of Commerce is taking reservations for next month's "Eggs & Issues -- Politics over Breakfast" forum. U. S. Sentor Jim Inhofe address the forum. The event will kick off the chamber's 2015 series Tuesday morning, July first with breakfast at 7:30 at Tri-County Technology Center.
Inhofe is an army veteran, the ranking member on the Senate Armed Services Committee, and a senior member of the U. S. Senate Environment and Public Works Committee. He is a staunch advocate for providing greater resources, necessary equipment and proper training for military personnel. He has been a small businessman working in aviation, real estate, and insurance for more than 30 years.
Make your reservations with the chamber by next Thursday. 20 dollars for chamber members and 30 per individual non-member. Call 918-336-8708.
« Back to News