News
Osage Nation
Posted: Jul 18, 2014 10:44 AMUpdated: Jul 18, 2014 10:44 AM
Popular Osage Ballet Set For Comeback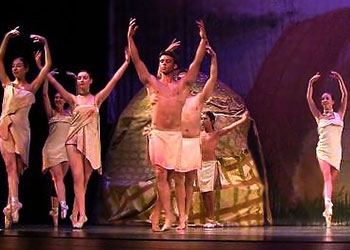 Colton Scott
The Osage Ballet known as "Wahzhazhe" is set to be coming back with two additional performances at two Oklahoma venues including Miami and Skiatook.
Happening at the Skiatook High School on July 18, 19, and 20, the show will have three separate performances with one going on each day. In Miami, they will be holding three more performances at the Coleman Theater on July 25, 26 and 27.
In 2013, the shows received much praise when they were showcased at the Bartlesville Community Center, Tulsa Performing Arts Center, and even the Smithsonian in Washington, D.C. The decisions were made to include these shows thanks to show director Randy Smith.
"Wahzhazhe" paints a picture of what it was like for the Osage people to first come into contact with visitors from Europe up until the present day. The show includes scenes from the Osage people's journey to Oklahoma as well as the discovery of oil in the minerals estate.
You can get tickets for $10 at the door for children and seniors and $12 for adults. The Osage Ballet is a non-profit organization from the Arts and Humanities Council of Tulsa.
For more information, you can call the Osage Ballet at 918-704-4668.
« Back to News