News
Local News
Posted: Aug 12, 2014 7:31 AMUpdated: Aug 12, 2014 7:31 AM
Area Team Wins in Coffeyville Rodeo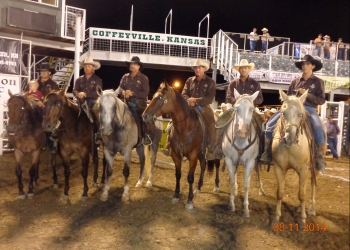 Charlie Taraboletti
The Zibell/Chamber Ranch Rodeo team turned in a good performance Monday night in Coffeyville Monday night.
The team from Wann won the Inter-State Fair's Ranch Rodeo and earned a trip to the Working Ranch Cowboys Association's World Championships in Amarillo in November.
The team was one-half point away from winning the title last year and heading to Amarillo, but they were beat out in the cow milking event. Tim Zibell was disappointed to get that close and not win the event. This year, they finished in first place with 63.5 points, nearly eight points ahead of the second team, Buford Ranch/Craig County, of Adair.
The Zibell/Chamber team consists of Tim, his son Clayton, Steve Perkins and Heston Perkins, who work for Tim, and David Chamber and Ace Bowman of the Chamber Ranch.
« Back to News