News
Politics
Posted: Aug 20, 2014 6:43 AMUpdated: Aug 20, 2014 3:25 PM
Martin Celebrates Retirement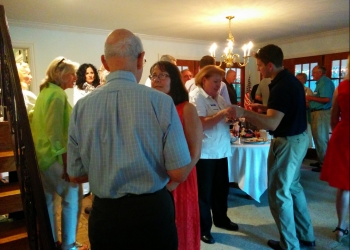 Jon Eastman
Surrounded by friends and colleagues Tuesday night, State Representative Steve Martin celebrated his retirement from office. First elected in 2005, Martin has worked on a number of committees including currently chairing the Public Safety Committee and the Conference Committee on Public Safety. Many political officers were in attendance, including U.S. Representative Jim Bridenstine. After the event, Bridenstine thanked Martin for his help.
For his part, Martin says he's honored by the opportunity he's had to work for the local communities as well as the relationship he's had with John Ford and Earl Sears.
Also at the event, the Republican Party announced that their headquarters would open September 8th in the Eastland Shopping Center..
« Back to News